Ojas Aesthetics releases E-Book on Lipedema and launches Renuvion® device for the 1st time in South India
3 min read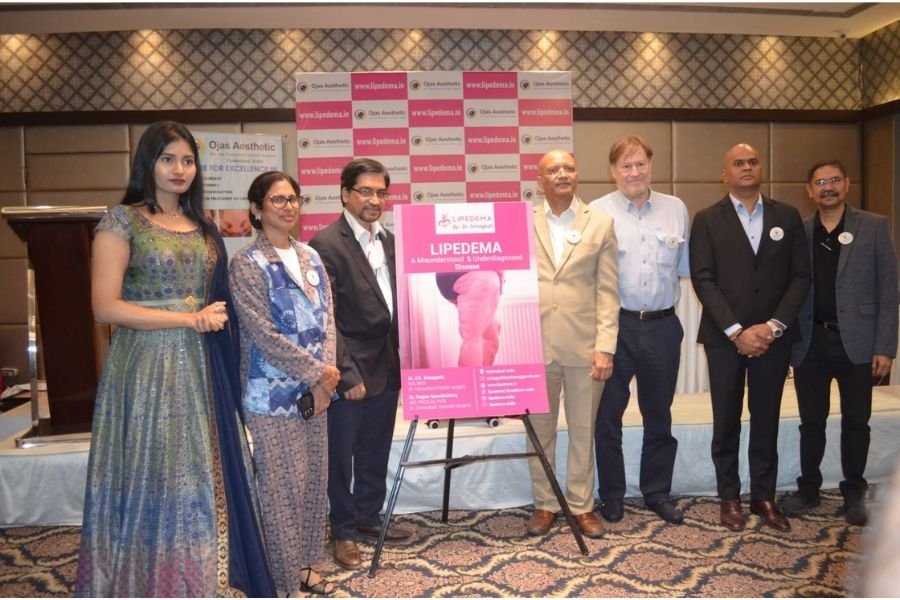 Ojas Aesthetics releases E-Book on Lipedema
● Lipedema is a connective tissue disorder which affects about 11% of women globally.
● Ojas aesthetics are the 1st one to launch RENUVION in South India
Hyderabad (Telangana) [India], March 4: Ojas Aesthetics announces the release of an E-Book on a medical condition called LIPEDEMA and launches Renuvion medical device on 28th February in Jubilee Ridge Hotel, Madhapur, Hyderabad, for the first time in South India.
Renuvion is a non-surgical procedure for skin tightening. Also known as J Plasma or J Plasty, the procedure tightens and refreshes loose skin without the need for invasive surgery, extended downtime, or large surgical scars. Ojas Aesthetics tied up with Renuvion, USA, to enable this service in south India.
The launch event was attended by the chief guests Mr Vinay Kumar Puvvala, Simhadri Shipping Log., Pvt Ltd; Ms Anisha Busa, Miss India 2023 FII (Fashion Inside India) along with Dr Srinagesh Vadrevu, Founder, Director & Plastic surgeon Ojas Aesthetics and co-founder Dr Sitalaskhmi Vadrevu; Mr Barry Gordon Rigby – Director Sales – Renuvion, USA and Dr. Ramakrishna. And Inaugural speech was given by Mr Suresh, Founder & Chairman – of G3 Lasers, INDIA.
On this occasion, the chief guest of the event Mr Vinay Kumar Puvvala, said that this Renuvion device would be like a thin line between disease and cosmetics and will always be at an affordable price. He said Renuvion involves various technology and innovative techniques to cure skin, nail and hair-related problems in patients. He further said it is an innovative method which they used to treat the number of patients in North India, and few patients are coming from Canada, the Gulf and other countries for the treatment.
Mr Barry Gordon Rigby – Director of Sales – Renuvion, USA, explained, "In an era of superficial innovations, Renuvion goes beneath the surface to uplift, empower, and reshape what's possible. Renuvion is a brand that helps patients physically with results to benefit them emotionally – creating confidence they could never have imagined.
"Renuvion is the most powerful tissue contraction device available," says Dr Srinagesh Vadrevu, Founder, Director & Plastic surgeon Ojas Aesthetics, Hyderabad. He said that this procedure works internally, whereas typical devices just work on the surface of the skin.
He further said that the way Renuvion works creates both immediate effects from the unique heating and it stimulates new collagen production (and contraction) in the months following treatment. Renuvion can be used on the arms, legs, and submental area (below the chin) and is particularly popular to use in conjunction with abdominal liposuction to create a tight, smooth canvas, he said.
Co-founder Dr Sitalaskhmi Vadrevu said, "Renuvion has been a game changer in the patient's life.
Mr Suresh said Introducing world-class technology in India from across the globe is a great initiative; with this, the patient will be safely treated without any side effects. In India, most people are not aware of lipedema, thinking of it as obesity; it's the time to tell the public and make them conscious about this, he further said.
Ms Anisha Busa, Miss India 2023 FII (Fashion Inside India), said that women in society are suffering more from Lipedema and its further effects on the body, and the idea of making treatment may help them come out of the disease.
Lipedema is a connective tissue disorder which affects about 11% of women globally. Lipedema primarily affects the extremities by abnormal deposition of diseased fat that is not responsive to diet, exercise, and even bariatric surgery. It can be accompanied by unexplained pains, lymphedema, spider veins, reticular veins and varicose veins. These patients develop knock knees and early arthritis leading to knee replacements. Lipedema is a progressive and disabling disease recognized by World Health Organization as late as 2019 though it was described as early as 1940. Renuvion is an FDA-cleared device intended to treat skin laxity on the neck and underneath the chin. It delivers helium plasma and radiofrequency energy through a thin probe that's inserted through tiny entry points in the skin. The RF energy and plasma are then delivered directly to the collagen-rich tissue that's a key source of loose skin. 
If you have any objection to this press release content, kindly contact pr.error.rectification[at]gmail.com to notify us. We will respond and rectify the situation in the next 24 hours.