Top 10 Personalities who has inspired many lives during the year 2022
5 min read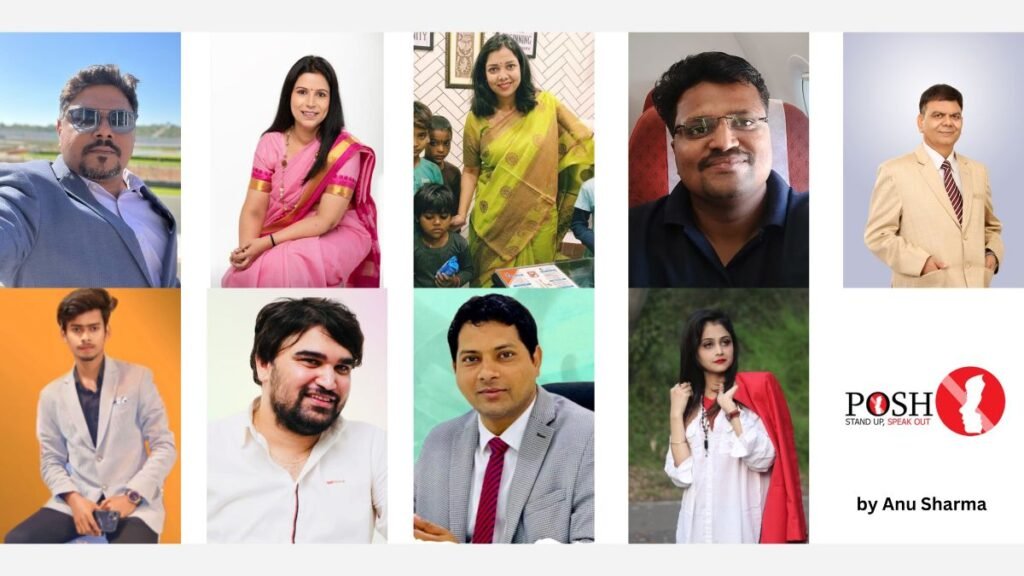 New Delhi (India), January 05: Here is a list of the top 10 Personalities that inspired many people to follow their hearts, dreams and Passion in 2022.
Dr Gaurav Pant
Sportal Corporate is a Lucknow-based Sports Education Company that provides physical education curriculum to schools and sports education workshops, certification, diploma and degree programs to undergraduate students in collaboration with various institutes. Sportal Corporate Director Dr Gaurav Pant, a Sports Educator, said the company's goal is to provide top-notch Sports Education from Kg to Universities so that students can reach their full potential physically and physically academically and make their career in Sports.
2. Abhiruchi  
Known as one of the best NLP Trainers in the country and licensed from NFNLP – USA, Abhiruchi practices and teaches Neuro-Linguistic Programming (NLP) to improve relationships, careers, and physical and mental health. With double master's degrees and two decades of rich experience, she is actively engaged in research work for the education sector HR and Mental Wellness. Throughout her career, she has worked with individuals and groups from different sectors and different walks of life with an aim to touch as many lives as she can.
3. Dr. Priyanka Maurya
Dr. Priyanka Maurya is a renowned Homeopath doctor by profession, social worker & politician by passion. She has over 1 million followers on social media. She was the face of Ladki Hoon Lad Shakti Hoon Campain of Congress Priyanka Gandhi Vadra during the 2022 State Assembly Election in Uttar Pradesh. Currently, she is a Senior BJP leader. She is also actively involved in social work with the NGOs like Atal Bharat Trust, Roti Bank and Neki ki Deewar serving underprivileged people and also runs several awareness campaigns.
4. Dr. Shashank D. Kulkarni
Dr. Shashank D. Kulkarni is known as the "Originator of the concept of Policy Ecocide". During his doctoral research, he innovated this important concept in the field of public policy. His contribution to the subject of public policy is recognised by different countries around the world. He is also known for his benchmark work on the Swaminathan Commission. He got the opportunity to work with the Father of the Indian Green Revolution, Prof. M. S. Swaminathan. Dr. Shashank's world-famous book "Swaminathan Commission: A Foundation of Farmers Policies in India" got a preface from Prof. M. S. Swaminathan. Swahili University of the Republic of Panama confirmed him with an honorary doctorate due to his contribution to the field of agricultural policy.
5. Dr.D.R. Upadhyaya
Dr.D.R. Upadhyaya is entitled as a person with a multidimensional personality who achieved 132 world records in the field of intellectual creation. He achieved PhD in Sociology. He is an Entrepreneur. Dr Upadhyaya has got huge recognition nationally and internationally. He is an important source of inspiration for youths. Multiple issues and subjects are included in his creation.
6. Adarsh Raj Yadav
Adarsh Raj Yadav is a Young Entrepreneur and Internet Marketing Strategist. He was born on 11 April 2004 in Vaishali, Bihar. He started his career in the digital world at the age of 12 years. In the beginning, He is helping YouTubers deal with brands for influencer marketing. After that, he started Scalably Vision Pvt. Ltd. in 2020 to help businesses to grow their online presence and generate leads. Which leads Digital Marketing Agency with 70+ clients trusted globally. He aims to provide a manufacturing hub in Bihar and connect Bihar to the entire world in the field of business in all aspects.
7. Aloysious D'Souza
A young entrepreneur turned politician and a youth representative of the ruling TRS Party, Telangana. With a vision to change how the country perceives people in power, he walks his way to being a dynamic leader. AD Manufacturers, a start-up named after him and his passion, is an industrial facility in Hyderabad producing "crumb rubber." a revolutionary, environment-friendly product to make rubberized roads a reality and aims to reduce pollution by recycling and reusing scrapped tyres for a sustainable future. This politician, with a heart of gold, uses power to support and empower people. His eternal service to those in need stands as testimony to his philanthropic nature.
8. Dr Punit Dwivedi
Indore cleanliness brand ambassador Dr Punit Dwivedi taught a lesson about cleanliness to 21 senior officers & diplomats from Ivory Coast. The delegation includes senior officials & diplomats from the Ministry of Coast, Water & Forests, the Ministry of Reconciliation & National Reconciliation, the Ministry for Promotion of Good Governance and Fight Against Corruption, the Ministry of National Education & Literacy, the Ministry of Interior and Security. Dr Punit Dwivedi, brand ambassador of Indore cleanliness, is working as Professor & Group Director in the Modern Group of Institutes, Indore.
9. Zeba Rehbar
Zeba Rehbar from Saharanpur, Uttar Pradesh, will play the role of co-star in the Bollywood film Pune to Goa. In the upcoming Bollywood film Pune to Goa, Zeba Rehbar, from a rural area, has got a chance. After a tireless journey of seven to eight years, he got his first opportunity in the world of Chanderi from the Hindi film Pune to Goa, produced by Adityaraje Marathe production and Morya production house co-produced by Kishor Kharat, Amol R Bhagat and writer directed by Amol Bhagat.
10. Anu Sharma
The Institute of Legal & Management Studies is a renowned institution that has been providing top-quality training on the Prevention of Sexual Harassment (PoSH) for Indian corporations for many years. In 2023, the institute has once again emerged as a leader in this field, offering a wide range of courses and training programs that cater to the specific needs of different organizations. One of the key reasons for the institute's success is its experienced and highly qualified faculty, which includes lawyers, HR professionals, and subject-matter experts. These experts have a deep understanding of the PoSH laws and regulations in India and are able to provide practical, hands-on training to help organizations comply with these laws and create a safe and inclusive work environment for all employees.
https://www.ilms.academy/products/certificate-course-in-prevention-of-sexual-harassment-at-workplace
If you have any objection to this press release content, kindly contact pr.error.rectification[at]gmail.com to notify us. We will respond and rectify the situation in the next 24 hours.