15 Inspiring Indian Entrepreneurs to look-out for in 2023
7 min read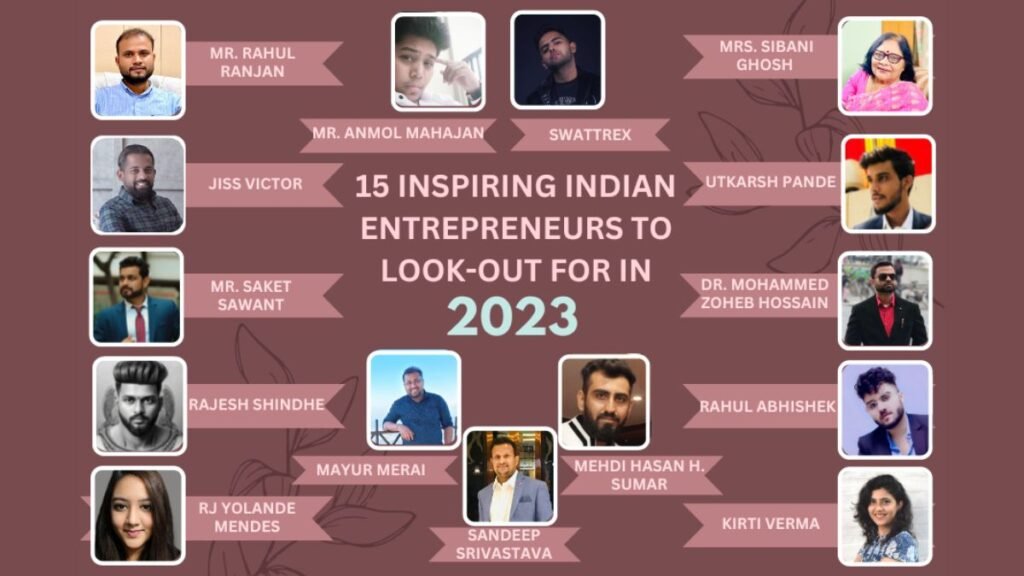 New Delhi (India), January 26: Since the pandemic forced everyone to shut their doors, there was one thing it could never change, i.e, creativity and new ideas. The business world has never been better. With amazing ideas coming into existence and creating a company that is dedicated to serve the people, many businesses have emerged from absolutely nothing to being the best in the industry.
The entrepreneurs behind the company's formation and success are the ones that deserve the appreciation, for they are the ones behind those spectacular ideas and creative insights.
Here are the 15 most inspiring Indian entrepreneurs to lookout in 2023.
Mr. Rahul Ranjan
Founded by Mr. Rahul Ranjan in June 2015, Writrox is a career documents provider. The team of skilled and certified (CPRW) writers with over 10 to 12 years of expertise in writing is picked from thousands of professionals with diverse writing backgrounds for the work.
As per a candidate's job profile, the company's expert writers bring out the best in someone's resume by highlighting the potential of an individual.
Mr. Anmol Mahajan
Pioneer manufacturer and importer of Sports, Fitness, Playground Equipment and All Sports Flooring in India, Metco Sports Private Limited have 71 Years of Manufacturing Experience with over 8000 Dealers Pan India. 3rd Generation, M.D. – Mr. Anmol Mahajan who have deep knowledge of Marketing domain. He strives to stay at the top and is working with a vision to expand his business to over 150 countries in the next 5 years. Passed out from King's College London and worked with Google, he truly is the Big Bull of Sports Industry in India. Being one of the Leaders in the industry, he says they are dedicated to serve their customers by building a one-stop solution for high quality products in India.
Swattrex
Founded by Swatej Agrawal, also known as Swattrex, Rex Empire is a global music distribution and marketing company. Swattrex is a professional Dj, music producer, and sound engineer.
He started making music back in 2017. He has a total release catalog of over 150 song as of now and over 70 original releases. From making music in his bedroom to performing at various events, and having crossed over 100 million streams across all music platforms, he is truly an incredible persona.
His new pop album will be released soon.
Mrs. Sibani Ghosh
Founded by Mrs. Sibani Ghosh and Mrs. Sushita Patra, Spirit of India was established on 26th January 2022. Spirit of India provides the most exotic range of handpicked and home-picked-grown products.
The company focuses on providing attractive Indian jewels in an affordable price range. Authentic designs created by local artisans are appreciated globally. The foundation further focuses on transforming lives by bypassing the middlemen and providing money directly into the hands of extremely talented artisans.
Jiss Victor
A Dubai-based Indian entrepreneur predominantly connected to the entertainment industry, he has recently laid the foundation of his production house in India named Infinity World Media Productions, along with Mr. Noufal. K. and Director Shaji Pappachan.
He is also the first director of Mrs. World in UAE and the director of Dubai based company Styleden LLC. His hard work and determination have surely made him worthy of achieving such a level of success. He is also looking forward to the launch of a designer fashion week this May 2023.
Utkarsh Pande
Utkarsh Pande is the CEO of Saket Ortho Rehab International Private Limited and Founder of Aria investments, and Tekas Footcare. He also started his career in the trading in 2017 and wealth management in 2020. He believes in a concept called departmentalization, which allows him to work on multiple businesses simultaneously.
The work models work superiorly as they have professional models to work on, manage the finances and guide the investment journey.
Mr. Saket Sawant
Specialized in finance and business development, he is the director of M/s. Aristocrat Films Productions Private Limited. By profession, he works as a Chartered Financial Analyst/ Cost Management Accountant. The company is known for its quality-conscious approach towards business, the company has a strong presence across all genres of entertainment, media value chain, and distributions of films, series, satellite, and digital media.
With over 2 decades of experience in the industry, Saket Sawant is a professional and skilled individual dedicated to providing the best.
Dr. Mohammed Zoheb Hossain
He is the founder of Kidderpore Child's World School in 2006. Dr. Mohammed Zoheb Hossain completed his PGDBA, he is a West Bengal State Topper in BHM and he also holds an honorary doctorate in social work and education.
Dr. Mohammed Zoheb Hossain is the owner of the firm "Pinnacle Suppliers" which deals with office and school supplies. He is also the director of "Bismillah Enterprise" which deals in leather goods.
He has been a part of many social activities during the pandemic as an entrepreneur and philanthropist. He has won over 50 awards in the field of Education, Business, and Social work.
Rajesh Shindhe
Rajesh Shinde, an MBA graduate from PES University Bangalore quit his job at DNA Entertainment Networks to join his family business which was run by Late.Mr.Ashoka Shindhe, whom they lost to cancer. He came to Dharwad which is a tier-2 city with a dream of improving the quality of life by introducing innovative and quality businesses.
There is a long list of succeeding businesses under the Ashoka Family Group popular by name as Hotel Ashoka the Great, Hotel Parkview inn, D social, V L'oreal, Hotel Dwarawata, Skybar, Jurassic, Vijay Sales Company, Vijay Tiles & Sanitaryware, Ashoka Mineral Water and V Loreal – New branch and also new upcoming resort in Dandeli – Ashoka Jungle Resort and Spa.
Rahul Abhishek
The co-founder of three multi-national corporations and the founder of two startups, Mr. Rahul Abhishek has been recognized as an emerging highly profitable Trader. He has been felicitated by numerous awards and accolades, including "Trader of the year 2022" and "Highest Profitable Trader 2022".
Along with his team of skilled traders, he has been assisting students and amateurs by giving them a clear route to becoming a profitable Trader through their business, Xerox Money. He recently got sponsorship from Godaddy, PayPal and PayUmoney for global expansion of business.
RJ Yolande Mendes
CEO and founder of Dive International, RJ Yolande Mendes is deemed as a Millennial Multi-Hyphenate with an amazing journey. Being an avid learner, she has specialized in Branding businesses.
Dive International provides services for Digital Marketing including Graphic Designing, Voice-Overs, Social Media Content Creation, and many more. The company offers professional growth plans and strategies for personal branding purposes. Yolande Mendes is a world record holder and her career truly embodies the 'jack-of-all-trades' concept being the best version of herself. Yolande Mendes is a world record holder and her career truly embodies the 'jack-of-all-trades' concept with a key focus on being the best version of herself.
Mayur Merai
Business Consultant at SPANWIZ, a one-stop solution-providing digital marketing agency specializing in customized, integrated, and aligned strategies that help customers achieve their business-specific goals. With an exceptionally talented and skilled team, digital marketing and personal branding just became easier.
Mr. Mayur is a highly professional digital marketing strategist and business consultant for over 7 years in the industry. With a deep knowledge of how things work in the industry, he has been able to provide customized services to customers. He is exceptionally talented in various digital marketing channels.
Mehdi Hasan H. Sumar
He is the founder of Unique Arts, a digital marketing industry specializing in Graphic designing, Advertisement solutions, Web Development, Branding, and many more. the company is dedicated to provide the most creative outputs for customers. Being an all-in house service, the customers have to deal with a single POC.
Unique Arts is mostly known for offering unmatched services of graphic designing and it serves as a one-stop solution for all branding and advertisement solutions.
Sandeep Srivastava
The founder of Minibreaks India Private Limited, Mr. Sandeep Srivastava a certified digital marketer. Serving in the hospitality management domain for over 19 years, he works exceptionally in sales, business development, marketing, accounts and relationship management facets in e-commerce, and many more.
He prefers working in a team and he specifically highlights the importance of hard work and determination.
With Minibreaks, the customers get to stay in a luxury hotel for a day and indulge in the moment without worrying about the charges as per the standard per-night tariffs. Customer satisfaction is the motto of the company.
Kirti Verma
She is the co-founder of Brick Brown, a premium home décor and essentials brand that strives to bring affordable luxury options to every home. She is responsible for expertly managing the company's sales and marketing efforts.
Brick Brown is the brainchild of sibling duo Yash Verma and Kirti Verma, founded in 2018, which offers handcrafted, high-quality products that embody the values of utility, minimalism, and sustainability at an affordable price. Dedicated to learning and improving at each step, the company has grown over the years, expanded its reach beyond D2C, and became a go-to for B2B clients like Barbeque Nation.
These entrepreneurs have been serving as an inspiration to many aspiring individuals opting to build the foundation of potentially successful businesses. Their creative approach and ideals have served as the base of their success while the constant efforts have been strengthening the economy of the country in whole.
If you have any objection to this press release content, kindly contact pr.error.rectification[at]gmail.com to notify us. We will respond and rectify the situation in the next 24 hours.