IIT Bombay and Washington University in St. Louis launches 8th Batch of EMBA
3 min read
The EMBA degree provides professionals with functional knowledge of multiple domains and enhance their leadership skills.
Mumbai (Maharashtra) [India], February 22: Looking at the next big leap in your career, but don't know how to go about it? The Executive Master of Business Administration (EMBA) course offered by IIT Bombay and US-based Washington University in St. Louis is the surest means to see your career take off.
Having successfully launched seven batches of the exclusive EMBA degree course, the two prestigious institutes have launched the 8th batch on Jan, 18th 2023. IIT Bombay-WashU Executive MBA program promotes innovation, leadership and encourages the highest standards of management practices, research, and collaboration among industry professionals. Participants come from a range of industries and functions. They are technology savvy, open to change and passionate about performance. EMBA aspirant should have significant experience and be able to demonstrate career progression and success across level. Ideal candidates may be entrepreneur's, CEO's, CIO's, CXO's, Directors, Presidents, VP's, etc.
Batch 8 was launch on 18th Jan 2023 at IIT Bombay Campus. The Chief Guest of the event Shri Swadheen Kshatriya (Former Chief Secretary & Former State Chief Commissioner for Maharashtra) welcomed batch 8 students by sharing the message of learning being a lifelong experience. He also emphasised on how to become a better leader by taking the right & collective decisions, promoting innovation, being accessible and also being responsive towards the team and consumers. He concluded his speech by sharing the mantra of leadership by having a  clear vision in life and generate the drive to achieve that vision.
 "With its advanced pedagogy, seasoned faculties, brilliant peers, the IIT Bombay & Washington University in St. Louis EMBA helps create more opportunities in the ever-evolving professional landscape globally. We are pleased to launch the 8th batch of EMBA and help shape more candidates become the leaders of today and tomorrow," said Prof. Subhasis Chaudhuri, Director of IIT Bombay.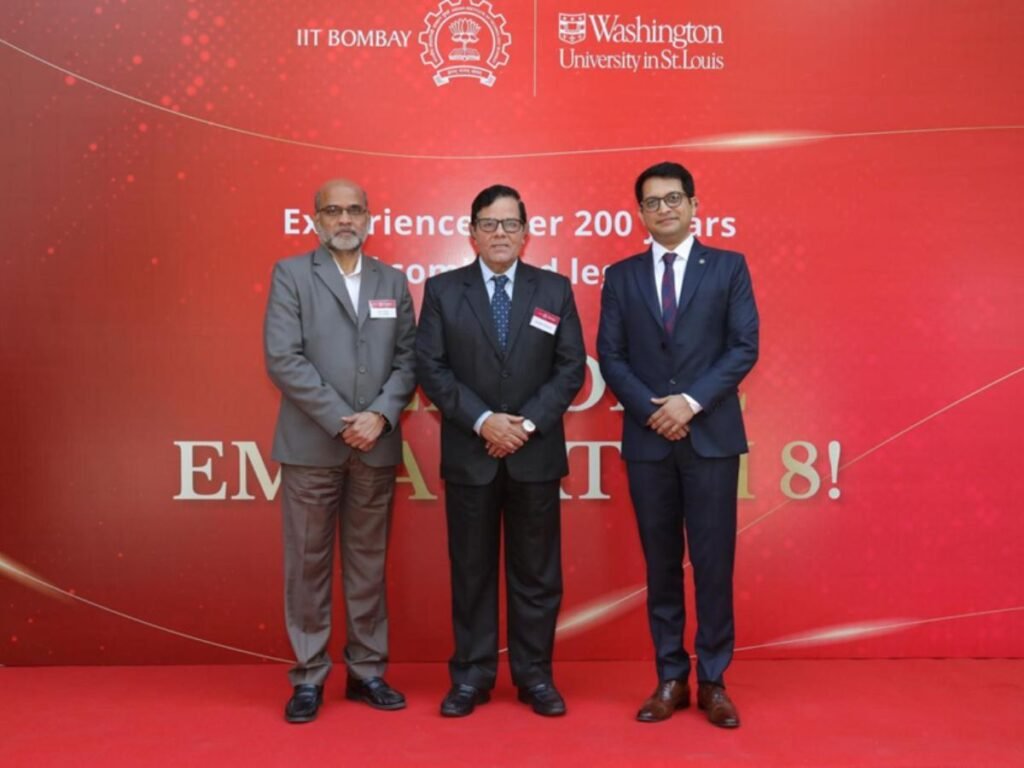 Andrew Martin, Chancellor of Washington University in St. Louis, said, "We are delighted with the partnership with IIT Bombay. The epicentre of global growth has shifted to Asia and especially India in the past few years in an increasingly globalized world. We have seen unmatched thought leadership emerging from 'made-in-India' managers who are successful leaders in top global institutions and corporates that significantly impact the world we live in today. This will only grow in the future."
The other dignitaries present were Prof. S. Narayan Rao (Head of SJMSOM, IIT Bombay), Prof. K. V. Krishna Rao (Dy. Director FEA, IIT Bombay) and Prof. Daniel Elfenbein (Professor of Organization & Strategy at Olin Business School).
Gopal Shukla, CEO of the joint venture of IIT Bombay – Washington University in St. Louis, said, "I foresee this collaboration as an important milestone in the journey of producing world-class talent and future global leaders. This EMBA course is unlike any offered by any other institute."
The EMBA is aimed at providing professionals and entrepreneurs with in-depth functional and broad industrial domain knowledge, enriching their integrated perspective, and upgrading and enhancing their leadership skills. It reinforces expertise and fills the knowledge gaps. It covers important modules like Strategic management and Innovation, Start-up Consulting, Data analytics, corporate finance, Leadership, Growth, valuation and sustainability, Managing power & influence, Global Supply chain, Operations management etc. and helps candidates develop personally and professionally to fast-track their careers & entrepreneurial journey.
The 18-month course will be conducted primarily in Mumbai over 17 months with two weeks residency in Washington D.C. and St. Louis. The course is conducted in a state of the art classroom within the IIT Bombay's campus.
The profile of participants in Batch 8 varies from senior level managers, entrepreneurs, MD's, CEOs and bureaucrats. The participant joined from organisations like Google, BOSCH, Govt of India (IRS), ITC, IBM, TESCO, Accenture, Disney Hotstar etc. The average work experience of the class is 18 years with 25% women participants.
The program was concluded by vote of thanks by the CEO of IIT Bombay -WashU Joint Venture Mr. Gopal Shukla.
Read More about the program: http://iitb-wustl.org/executive-mba
For more information contact us at +919819717944 or Email us at admissions@iitb-wustl.org
If you have any objection to this press release content, kindly contact pr.error.rectification@gmail.com to notify us. We will respond and rectify the situation in the next 24 hours.