Global Business Line Summit 2023 & Spotlight Achievement Award
4 min read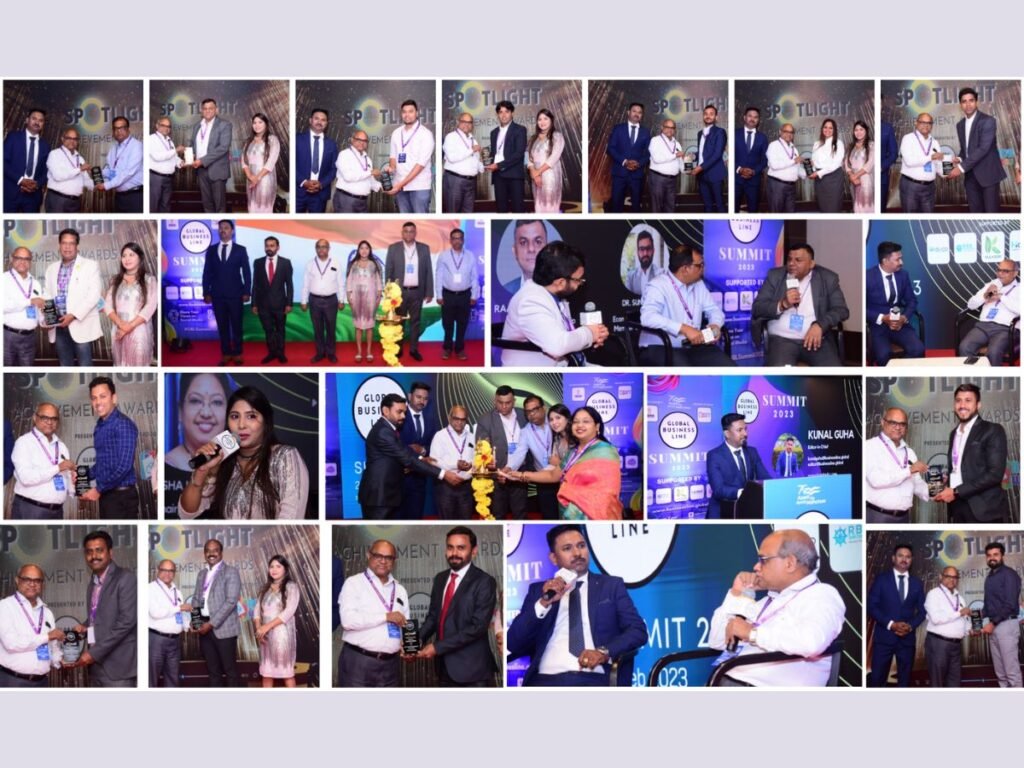 New Delhi (India), February 28: Global Business Line Summit 2023 & Spotlight Achievement Award, held on 24th February 2023, at the Gold Finch hotel in Bengaluru, was a grand success. The event was organized in association with MSME, powered by Rich Webs.
The event aimed to provide a platform for entrepreneurs and business leaders from around the world to come together and share their experiences, insights and knowledge. The event saw delegates from various industries and sectors, including technology, finance, logistics and more.
The event kicked off with a keynote speech by R.Gopinath Rao, Dy. Director at MSME, Development Institute, India, who spoke about the importance of government schemes and their benefits for businesses. This was followed by a speech by Preetam S. Sachdev, Secretary for Foreign Affairs, Prime Minister Office, Thailand, who talked about the challenges and opportunities facing businesses in Thailand and how they can tap into the country's growth potential. Kunal Guha, Founder & Editor in chief, Global Business Line, also delivered a keynote speech on the current state of global businesses and the emerging trends that are shaping the industry.
One of the highlights of the event was an interview of R.Gopinath Rao by Kunal Guha, where they discussed various government schemes and their benefits for businesses. The audience also had the opportunity to ask questions and engage in a Q&A session with the speakers.
The event also featured two interesting panel discussions. The first panel, which was titled "Strategies for Implementing and Scaling Innovation across Global Businesses", featured Dhirendra Singh, CEO, Founder & Air Quality Specialist at Airshed, Raajesh Bhojwani, Investor, Founder at RBB Ship Chartering Pte Ltd, Singapore and Dr. Sunil Kumar, Economist and Editorial Board Member Global Business Line. The panelists discussed various strategies for implementing and scaling innovation in global businesses, and shared their insights and experiences on the topic.
The second panel, which was titled "Importance of Sustainability and Corporate Social Responsibility", featured Sasha Kulothungan, Chairperson, Agastya Charitable Foundation, Sneha Gupta, Founder & CEO Global Business Line and Harini Ramarathnam, Personal Transformation coach and Business success coach. The panelists talked about the importance of sustainability and corporate social responsibility in today's business world, and shared their ideas and suggestions for creating a more sustainable and socially responsible business environment.
The event also featured interesting activities for the delegates, including workshops and networking sessions, where they could connect with other entrepreneurs and business leaders from around the world. The activity participants were rewarded with certificates and prizes for their participation.
The event also saw some interesting activities for delegates to participate in, with participants being rewarded with certificates and prizes for their involvement.
The highlight of the event was the Spotlight Achievement Awards organized by Global Business Line and presented by R.Gopinath Rao, Dy. Director at MSME. The awards were given to various entrepreneurs who had achieved significant success in their respective fields. The awardees included Dhirendra Singh from AIRSHED PLANNING PROFESSIONALS PVT. LTD, Naveen Kumar A from Talentverse Creative Tech Private Limited, Raajesh Bhojwani from RBB Ship Chartering Pte Ltd, Prabhakar Bhangare from globalpccs pvt. ltd., Nauman Hashim from Sigma9, Chandra Jyoti from Restrosol, Deepthi Thanka from Stedex solutions LLP, Thejas P from FAAB Invest Advisors Pvt Ltd, Satish Duryodhan from Bhoje Jewellers, Prince AYANIKKAL from Vends 360 Business Solutions Private Limited, Harisharnam Rastogi from Riseupp Edutech Pvt Ltd, Mr. Raghuraman Kalaimani from LOCALKART MARKETING PRIVATE LIMITED, Uttam Dam from Marixn Technologies Pvt Ltd, Pushpajayabalan Arockiam from Jesper Apps Software Services Private Limited, Kuldeep Saxena from KulVeda, Rajashree Rao from Mythistical Foundation.
The event concluded with a heartfelt thanks note from Sneha Gupta, Founder & CEO of Global Business Line, expressing her gratitude to all the delegates, speakers, awardees, supporters, and the Global Business Line team for making the event a grand success. She also concluded the importance of being mindful of our environment and the impact of our actions on it. It is our collective responsibility to work towards healing the damage that has been done and making our planet a better place for future generations
The attendees then had the opportunity to network with each other over dinner, making new connections and building lasting relationships.
Overall, the Global Business Line Summit 2023 & Spotlight Achievement Award was a tremendous success, bringing together entrepreneurs, business leaders, and experts from all over the world to share their insights and experiences. The event provided a unique platform for participants to learn, network, and grow their businesses, while also recognizing and celebrating the achievements of some of the most successful entrepreneurs in the industry. Global Business Line looks forward to hosting similar events in the future, and continuing to support and promote entrepreneurship and innovation across the globe.
That's wonderful to hear! It's always inspiring to see entrepreneurs making a positive impact in their communities and creating opportunities for others. Ms. Sneha Gupta's efforts to create a global business platform and provide mentorship for young entrepreneurs are admirable and will undoubtedly have a positive impact on the business landscape in India and beyond. Asansol and West Bengal have reason to be proud of her achievements and contributions to the business community.
Contact:
Globbal Media Line Private Limited
Mo: 7676302450
Mail: media@businessline.global
If you have any objection to this press release content, kindly contact pr.error.rectification@gmail.com to notify us. We will respond and rectify the situation in the next 24 hours.