AL-Jamieathus Sadhik Matriculation School celebrated 75th year of Indian Independence by setting 'Elite World Records'
3 min read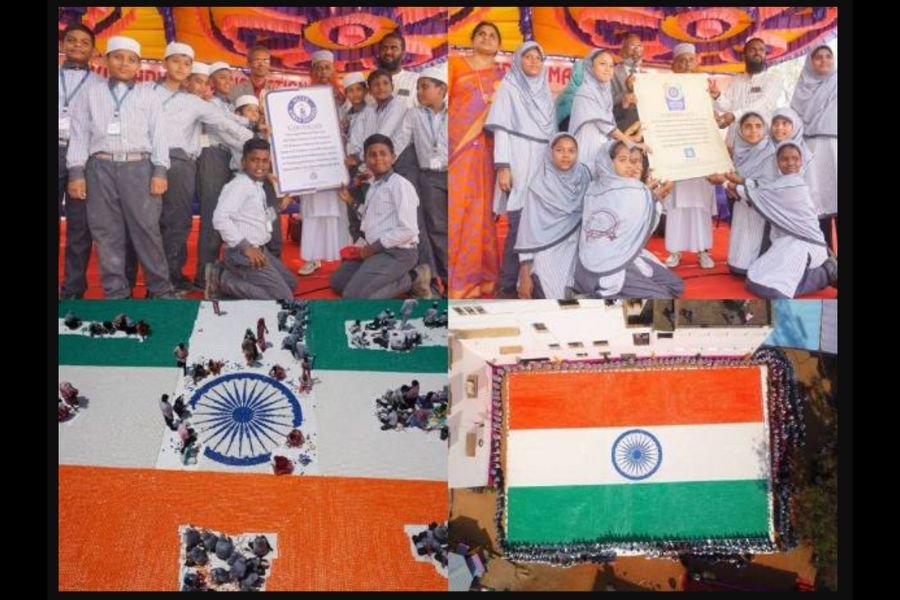 Trichy, Tamil Nadu, India, March 9: AL-Jamieathus Sadhik Matriculation School aims at imparting high-quality education to prepare the young for opportunities & for life in the fast-advancing modern society, the primary focus of Al-Jamieathus and its academic fraternity is on knowledge, excellence, love and service. In Al-Jamieathus it is a journey that inculcates not only knowledge but also ensures holistic development with patriotism.
A.Mohamed Arif, Correspondent detailed that in order to celebrate the 75th Year of Indian Independence and 30th Annual Day Celebrations we celebrated "Al-Jamieathus World Records Festival-2023" where in all our students and teachers have expressed their hidden potentials competing in a global platform by way of world record. 327 students and teachers came together and created history in form of world records certified by Elite World Records and India Records Academy in the category "Largest National Flag made with Paper Cups by a Team". He further said, Ameet.K.Hingorani of Elite World Records and P.Jeganathan, Senior Records Manager-India Records Academy were present to adjudicate the record attempt.
Ameet.K.Hingorani, Senior Adjudicator-Elite World Records, detailed that, AL-Jamieathus Sadhik Matriculation School has set a World Record "Largest National Flag made with Paper Cups by a Team", With Freedom in their Mind! Strength in their Words! Pride in their Souls! Zeal in their Hearts! 327 participants have made our country proud by making 337.50 square meters Indian National Flag, post which they took a pledge "My India! My Pride!". I appreciate the efforts of the school on their accomplishment, he further added.
P.Jeganathan, Senior Records Manager-India Records Academy, elaborated that "students of AL-Jamieathus Sadhik Matriculation School made 337.50 Square meters Largest Indian National Flag with 92500 Paper Cups", followed by which they appropriated a pledge emphasising "My India My Pride", and also to bring glory to our great country, which was patriotic and an incredible achievement he further stated.
A.Ahamadullah, Administrative Officer said "I have never seen such a large national flag covering the entire school ground. I felt proud of our team effort by seeing the tricolour flag made of paper cups. I appreciate the hard work and efforts of all the students, teachers and parents for accomplishing this world record, he further said.
S.Kamarthaj, Principal, said that, "my children found it difficult on the first day of the training but couple of days later they started enjoying colouring of paper cups and a small competition had started on who will make the most perfectly" and we are grateful to all the parents who had supported this event, they not only gave their consent for their wards participation but also volunteered in taking part in this event, she further added.
Bagalathi, Student of Grade X said "This world record festival has given the right platform to express our patriotic feelings and gave us an opportunity to learn the importance of our national flag and how to respect them".
Ismail, Student of Grade VI said "this event has given me immense confidence as even I can create a world record. If this was possible then anything is possible."
Sheerin Sultana, Student of Grade X said "Though we missed several classes over last few weeks to practice for the record attempt, I feel working as a team for these events taught us a lot. I am proud to be a part of this".
Shifana, Student of Grade VI, proclaimed "we had great fun colouring paper cups which brought back my memory while I was a little girl when I learnt to colour and paint, moreover it was patriotic when all of us coloured the paper cups and created the National Flag of our Great Nation.
Samha Sahidha, Student of Grade X said "My teachers, parents, principal encouraged us throughout these events while practicing, executing and achieving it. I feel very confident after achieving these world records".
Ashmitha Begum, Student of Grade X said, "We were worried due to climatic challenges and humidity but by God's wishes and with the help of teacher and parents support we managed to complete this herculean task".
The event witnessed lots of applause from the spectators. Parents, grand-parents and spectators left the event with great joy, pride and patriotic feel. 
If you have any objection to this press release content, kindly contact pr.error.rectification@gmail.com to notify us. We will respond and rectify the situation in the next 24 hours.